JOIN THE MOTION TEAM!
---
There are many ways to get involved at Motion Church, and chances are that we have a place that fits your passions, talents, skills, or interests. Our goal is to equip, train, and develop our team members to be successful at making a difference in the community. So whether you're a veteran volunteer, or have never served before, there is a place just for YOU!
---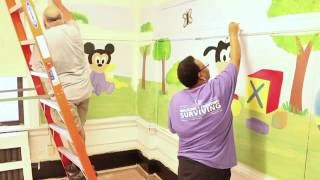 ---
Here are some of our teams that you can serve with:
WELCOME TEAM
Rain, sleet, snow, or shine – our Welcome Team Members are some of our most dedicated volunteers. They are the first Team Members you see when you arrive, and the last Team Members you see when you leave. They provide a friendly atmosphere of welcoming while ensuring that incoming and outgoing traffic is safe, orderly, and easy. Welcome Team Members also provide assistance to any guests who need help getting in and out of the building.
Click here for the Welcome Team Member role description.
---
CONNECT TEAM
Coffee, conversations, and connecting with other people; that is our Connect Team's specialty! We feel that an inclusive and friendly atmosphere is really important. So our Connect Team Members ensure that the fellowship & café area is an environment that promotes connection for all of our guests. Whether helping brew a refreshing cup of coffee, assisting people as they enter or exit the building, or getting deep in a meaningful conversation – Connect Team Members are key in helping people feel 'connected' at Motion.
Click here for the Connect Team Member role description.
---
SERVICE TEAM
Excellent service, uplifting atmosphere, and spiritual care – are the three elements that our Service Team is renown for. Team Members assist in seating guests, promote service themes, and help the pastoral leadership team create a contemporary and exciting atmosphere where guests can experience the awesome presence of a loving God!
Media & Sound Team: As a part of the Service Team our Media & Sound crew use their skills, talents, and specialties to create stellar graphics, sound, lighting, and tech coordination!
Click here for the Service Team Member role description.
*Leadership Opportunity: Click here for the Service Team Coordinator role description.*
---
KID'S IN MOTION
Making families feel important – that's what our Kid's In Motion Team is all about! We value our Motion kids, which is why we provide them with an opportunity to dive into fun and exciting activities, help them build friendships with other kids, and share stories with them about a God who loves them. We value our Motion parents, too; which is why we strive to provide a safe, secure, and comfortable environment so they can relax while they attend service on Sunday.
Click here for the Kid's In Motion Team Member role description.
---
WORSHIP TEAM
Providing a catalytic atmosphere where people can experience the presence of God – that's what our Worship Team Members do every Sunday, right here at Motion Church! These Team Members are a group of musically talented and spiritually called individuals, who collectively use their gifts to practice, prepare, plan, participate, and pioneer the leading of Motion's attendants and guests in contemporary worship. We believe that our worship music and environment should match the very excellence of the Gospel that we have the privilege to herald.
Click here for the Worship Team Member role description.
---
LET'S TALK
---
If there is a particular team or role that you're interested in, please use the submission form at the bottom of this page to contact us. We'd love to get a chance to talk with you, answer any questions, and even set up an opportunity for you to see what it is like to serve on a Sunday.

If you have any issues sending your message, please feel comfortable to contact us at life@mymotionchurch.com. We look forward to serving with you!